Can an electric bike pull a trailer?
Answer: Yes, absolutely. Electric bikes are great for towing trailers as long as you choose the right ebike and trailer for your towing needs. The electric motor will actually enable you to go faster and further without even noticing the extra weight, especially in hilly areas.
Whether you are carrying camping equipment or towing a child or pet, bike trailers are often strong enough to take heavy loads. Plus, they are detachable so you can remove it if you do not plan on using it. Electric bikes are well suited for pulling trailers thanks to the extra torque provided by the motor.
Types of trailers
There are specific trailers for a variety of purposes so whatever you plan on carrying in your trailer, there is a specific type of trailer for that purpose. Most electric bike trailers weigh up to 40 lbs before adding kids, pets or cargo.
Luckily, with an ebike, you can comfortably tow any of these extra loads. Trailers are designed with hitch arms (to connect the trailer to the bike) which are compatible with a range of rear axles. The hitch should be sturdy enough to prevent your trailer from ever breaking free.
Cargo trailers
Cargo trailers come in a range of shapes and sizes and could enable you to take all kinds of light or heavy items for longer distances. Cargo trailers are usually flatbeds – although there are other designs – and do well with carrying anything from camping supplies to tools or other items around the city.
Cargo trailers come in a few kinds; two-wheel cargo trailers, and three or four wheel cargo trailers. Two wheel trailers are for lighter loads and are easier to load and unload – they have support kickstand to keep standing when taken off off the bike. Three and four wheel trailers are more stable, but they usually create more drag and can take a bit more effort to tow, either by battery power or pedal power. The trade off is that their weight capacity is higher.
Our customers have had the most success with the Trail-Monster Cargo Trailer by Cycle Force. It has the best balance of capacity, size, convenience and price. See below: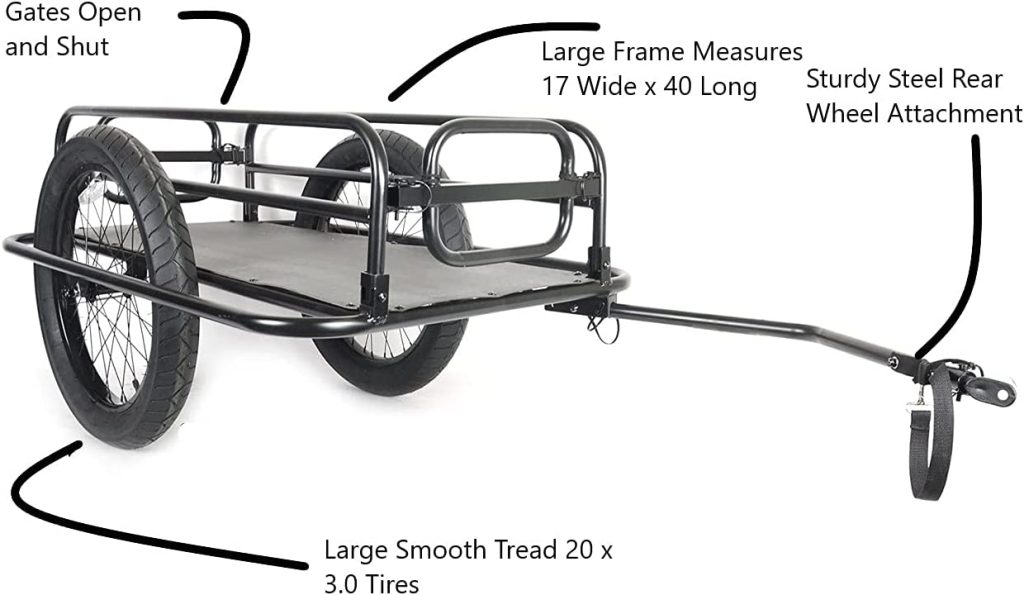 Pet trailers
Often two-wheeled, pet trailers are typically lighter and smaller trailers perfect for taking your dog on a day out around the city. Some are similar to cargo trailers except they come with enclosed sides to keep your dog safely in the trailer.
Pet trailers could be used to carry some light cargo like groceries but not all cargo trailers can be used to carry pets. Some pet trailers come with a weather-resistant fabric to protect your pet against rain or the hot rays of the sun.
Before you buy a pet trailer, make sure your dog (or iguana) can fit in it. It should not be too big or too small, and the floor should be soft so that your dog can comfortably sit or stand.
Our customers have had the most positive things to say about the Schwinn Rascal Bike Pet Trailer. It has a unique folding frame and quick release wheels that pack up neatly for compact storage and transport. The coupler easily attaches to almost any bicycle for added versatility.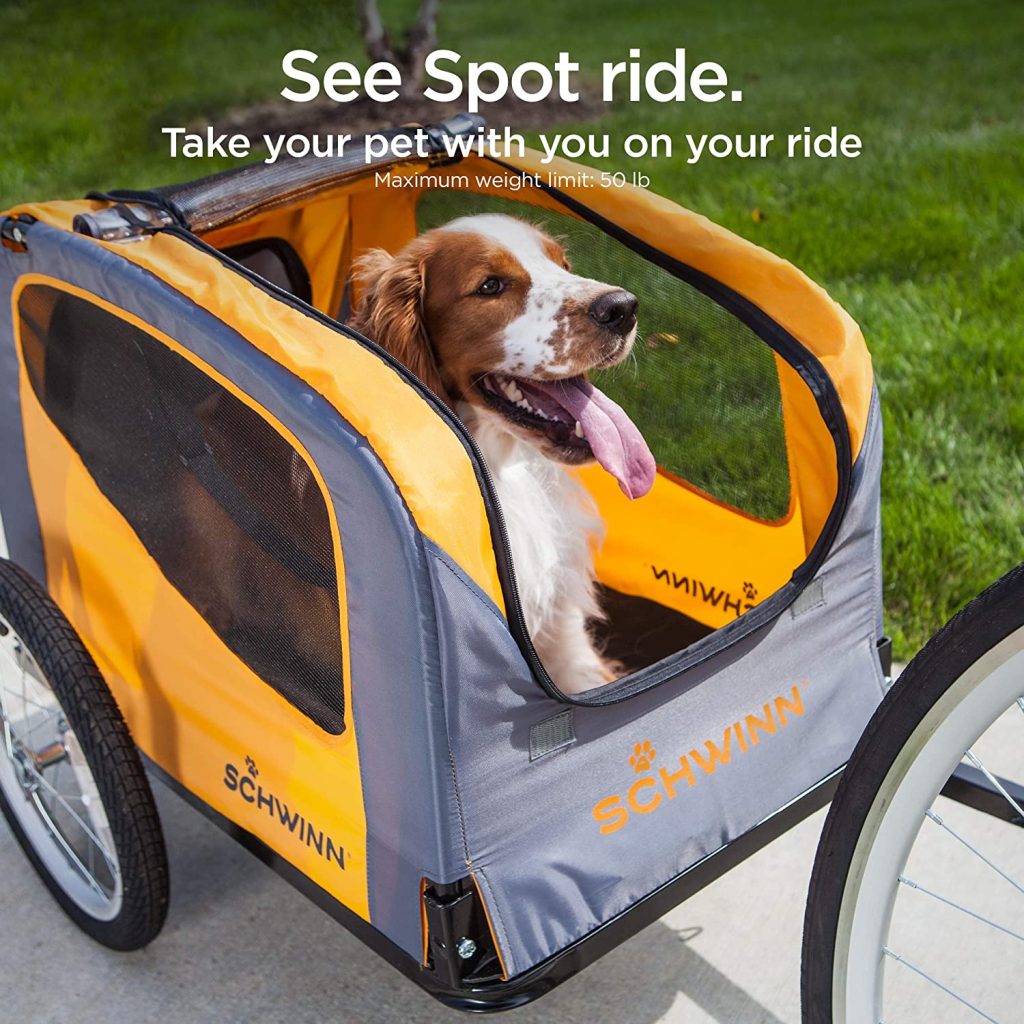 Kid trailers
Kid trailers are typically two-wheeled although some models are three wheeled. They often come in one or two-seaters and could be used for pets as well. Some kid trailer models have straps which hold the child in place for extra security. Kid trailers mainly come in two types; enclosed trailers and open trailers.
Enclosed trailers are for younger kids, one to six years old. A child can sit comfortably in the cart. Some even come with a sort of roofing in case it rains or it is too hot. Most even have aluminum bars as a roll-cage in case of an accident. Enclosed kid trailers also come with a zip door at the front that can easily be opened and closed, with a plastic mesh window offering ventilation when the zipper is closed.
Open trailer bikes are more suitable for older kids, usually seven years or older, who are confident and strong enough to pedal. Both trailers can easily be attached to the rear of the bike. Plus, most kid trailers are designed with some kind of adjustable suspension. These suspensions are very effective in smoothing out bumps in the road.
Additional accessories for kid trailers include a neck support pillow for the child and helmets, which offer extra protection in the event of an accident. If you are looking for a multi-purpose trailer, choose one with adjustable handlebars, as it can be used as a stroller as well.
We found the best all-around kid trailer for Ebikes is the Schwinn Echo, and Trailblazer Child Bike Trailer. It holds two kids up to 40 pounds each, plus an additional 12 pounds of convenient storage for whatever else you need.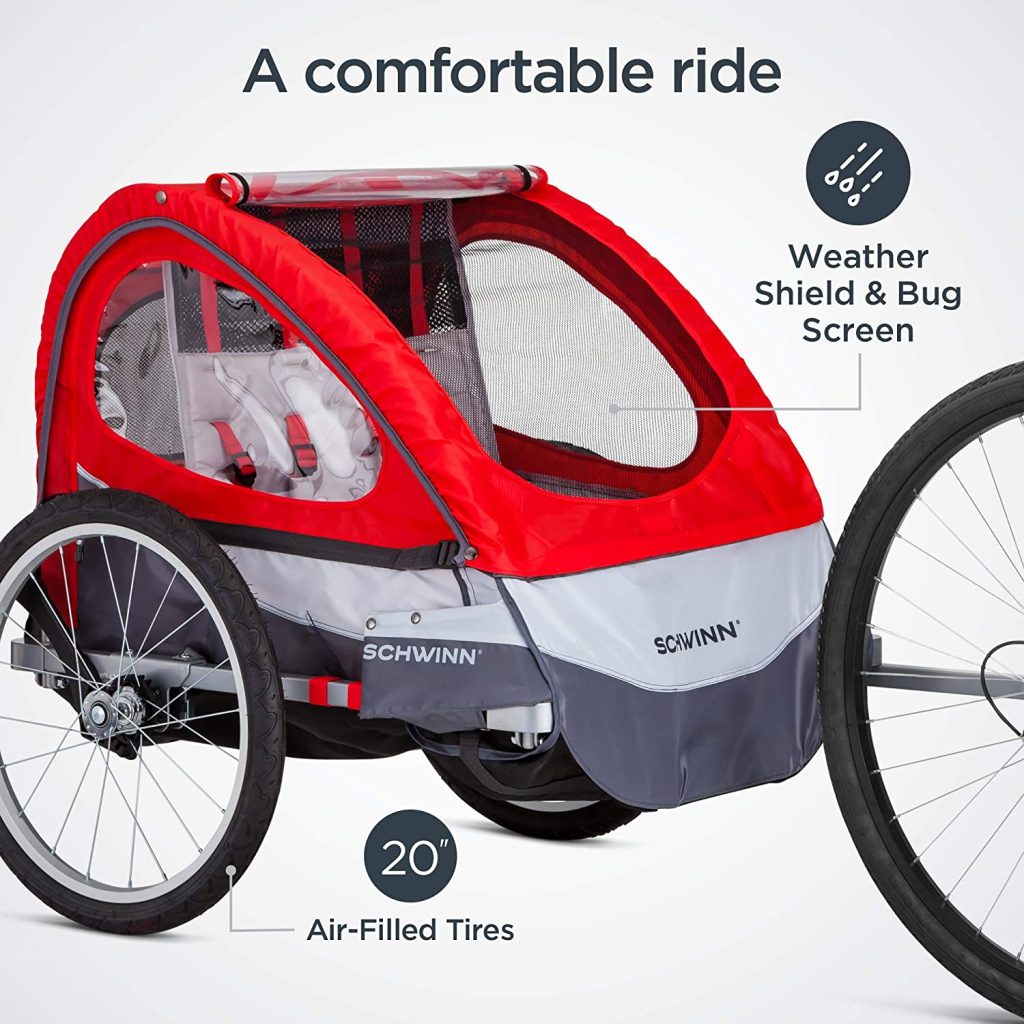 Important note, be aware of the laws and regulations in your state concerning transporting children on electric bikes. Every state has its own rules so it is important to inform yourself so that you aren't break the law with your child. It would be a shame if you got in trouble because of your beloved ebike…I mean child.
Depending on the model and purpose of a trailer, trailers can carry as much as 300 pounds. The more weight the trailer is carrying, the more pedal or motor power is required. That being said, drag is hardly ever felt on smooth roads. It is mostly an issue when riding uphill or on rough or soft terrain and a more powerful motor can offset any drag felt.
What kind of ebike is ideal for pulling trailers? 3 Things to Consider
When choosing an electric bike that will also be used to pull a trailer, there are 3 important things to consider before making a purchase. These include the motor power, type of motor, and the battery and brakes.
1. Motor power
Simply put, a higher power motor will give you better results when towing a trailer. Electric bikes generally have a starting motor power of about 250 watts. This is great for lighter riders without trailers and who mainly ride on flat roads.
However, the more you weigh and the more hilly areas you want to ride, the more motor power you will need. Approximately 350w to 500w or even 750w are better suited to these environments. This would provide enough power to get you up hills more comfortably and quickly. If you plan on towing a trailer, you'll need a motor that's a step higher from what would normally work well your terrain and weight without a trailer. For instance, if your weight and terrain demand a 500w motor without a trailer, then you'll likely need at least a 750w motor once you add a trailer.
An important note, many states limit electric bikes to 500w or 750w of power without a need for a license, so check the laws and regulations of your state to stay on the good side of the law.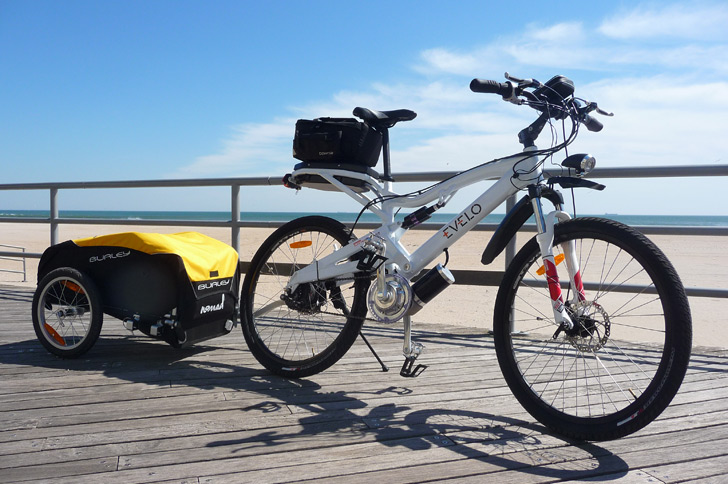 2. Type of motor
Generally speaking, between the front hub (mounted on the front wheel), rear hub (mounted on the back wheel), and mid-drive motors (connected on bike's crank), the mid-drive motor will provide you with a better performance when towing. A mid-drive motor is connected directly to the pedals of the bike and provides power directly to the chain. This system also enables it to take advantage of the bike's existing gears.
On the other hand, hub motors may have traction problems uphill or on smooth wet roads. Furthermore, mid-drive motors are center massed. This means they do not affect the balance of the ebike much, unlike the front and rear hubs which are added either at the front wheel or back wheel respectively. Since the motor is fairly heavy, the weight towards the front or back wheel can affect the riding experience.
There are, however, advantages to consider with hub motors. First, ebikes with hub (front or rear wheel) motors are usually more affordable than mid-drive ebikes. Also, it's easier to access the motor if needed for repairs, and servicing, or replacement. So consider these factors when choosing the type of motor in your ebike.
3. Battery and brake capacity
When you consider all the extra weight and power needed to pull a trailer, your battery will likely drain more quickly. To avoid peddling home unassisted, with a big trailer load in tow, remember to get a battery with a higher capacity that can deal with the heavier power draw from pulling a trailer. That will help to increase your bike's range capabilities. In fact, you could even add a second battery for more range. After all, you will have a trailer to carry it in!
Disk brakes will typically allow you more consistent breaking power especially with the heavier extra loads. They also perform better in wetter weather. In case your ebike does not have disk brakes, upgrade to the higher performance brake pads for the rim brakes. They will give you better performance in more varied conditions.
Through continuous innovation, batteries and motors are becoming smaller but just like any new technology, the best ones cost more. The better batteries are lighter, durable, and small in size while still enabling the same power output as heavier batteries.
Another alternative to pulling a trailer with an electric bike is having the trailer help you out through providing its own power. Such trailers are called Electric push trailers. They do exactly what the name suggests, help push you and your cargo along. Electric push trailers can be attached to ebikes just like ordinary trailers. You could also consider using fat tires, they increase the amount of weight you can pull effortlessly.

In Conclusion
Electric bikes are VERY capable of pulling trailers. If you are looking to carry extra loads on your e-bike rides, then bike trailers might be a great option for you! Just keep in mind, the extra load will require a more powerful motor, as well as put a greater load on your battery and brakes. So be sure to choose an ebike that's capabilities are more than what you'd normally need for your weight and terrain, when not towing a bike trailer. 
Best of E-bike Trailers:
Related Articles: