Looking for the best eBike hunting trailers to help you carry your gear, game, and other essentials on your next hunting trip? Look no further! As more and more hunters turn to eBikes for an efficient and environmentally-friendly way to get around, the demand for high-quality eBike hunting trailers has skyrocketed. In this blog post, we've compiled a list of the top picks for eBike hunting trailers in 2023!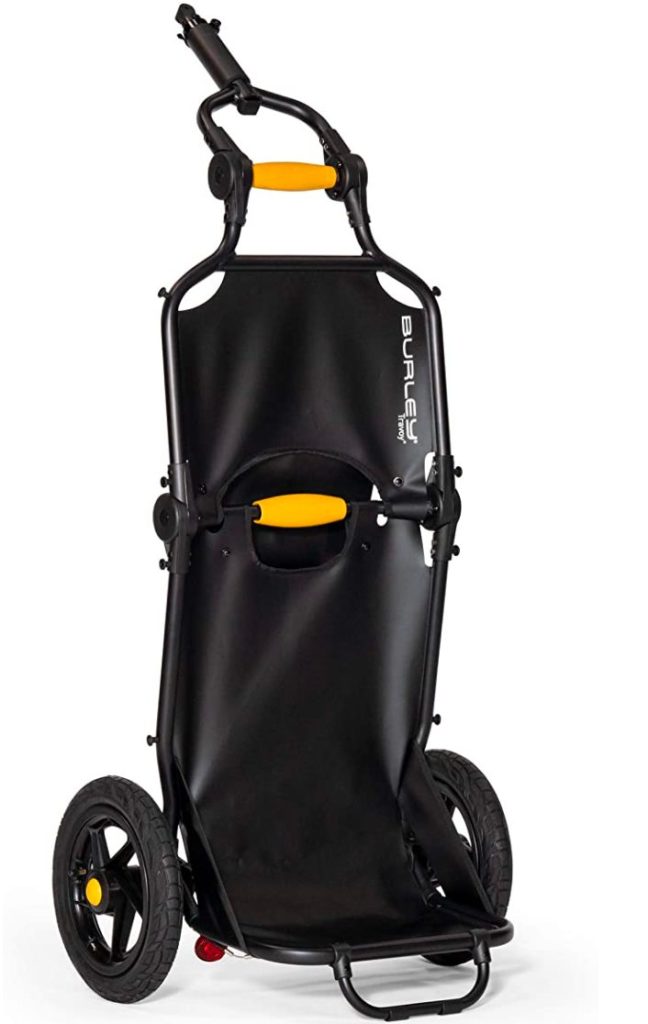 Carrying a deer carcass out of the woods is challenging for hunters. But what if you could load the deer on a convenient ebike trailer? This is where the Burley Travoy Cargo Folding Bike trailer steps in. It is a top e bike hunting trailer featuring considerable weight capacity ideal to carry heavy loads and hunting equipment.
The Burley Travoy bike trailer carries up to 60 pounds, making it convenient for carrying hunting carcasses. It easily attaches to most bikes and has easy maneuverability for effortless transport.
PROS:
Quick Hitch AND EXTENDABLE TOW ARM
Say goodbye to complicated installations! The Travoy's Quick Hitch allows for tool-free attachment and easy transition from bike to bike. Simply attach the hitch to your seat post and you're good to go!
Need more clearance for racks and fat tires when moving on a single track? No problem! The Travoy's extendable tow arm provides additional clearance and flexibility to accommodate your cargo needs.
The Travoy's slim profile makes for a compact footprint, ensuring easy storage and transport. When you're not using it, the trailer folds down to briefcase size in seconds with twist handles. Like the Bakcou trailer, the Burley Travoy also has a slim profile.
Worried about your cargo falling off or getting damaged during transport? The Travoy's integrated wheel guards protect and corral your cargo, ensuring it stays put and arrives at your destination in one piece.
Lightweight and easy to use 
The Travoy folding deer trailer is designed to be attached to your bike without tools, making it a breeze to set up and start using. It also folds down easily for storage or transport.
With a large hamper attached, the Travoy folding deer trailer can hold up to $125 worth of groceries, making it a convenient option for running errands or shopping.
The Travoy deer trailer allows you to carry carcasses and access your cargo without having to bend over quite as far.
Comes with a storage/carrying bag
While not very useful for carrying extra heavy cargo, the bag is helpful for storing the Travoy deer trailer when not in use.
CONS:
Requires some adjustment to riding style
The Travoy ebike trailer can tip over if you hit bumps or mud, so you'll need to adjust your riding style to avoid these hazards.
Stock tires and tubes are prone to flats
While the Travoy's ebike trailer's wheels are designed to be lightweight, this comes at the expense of durability. The flat tires are not compatible with extended use. Finding high-quality replacement tires and tubes can be difficult.
In areas with a lot of debris and mud, the Travoy's wheels can be susceptible to puncture or damage. Some users wish the wheels were made of solid rubber instead of having inner tubes.
Travoy cargo transport bags are expensive and don't hold enough. While you can use your own bags and containers, finding the right size and attaching them to your ebike can be a bit of a hassle.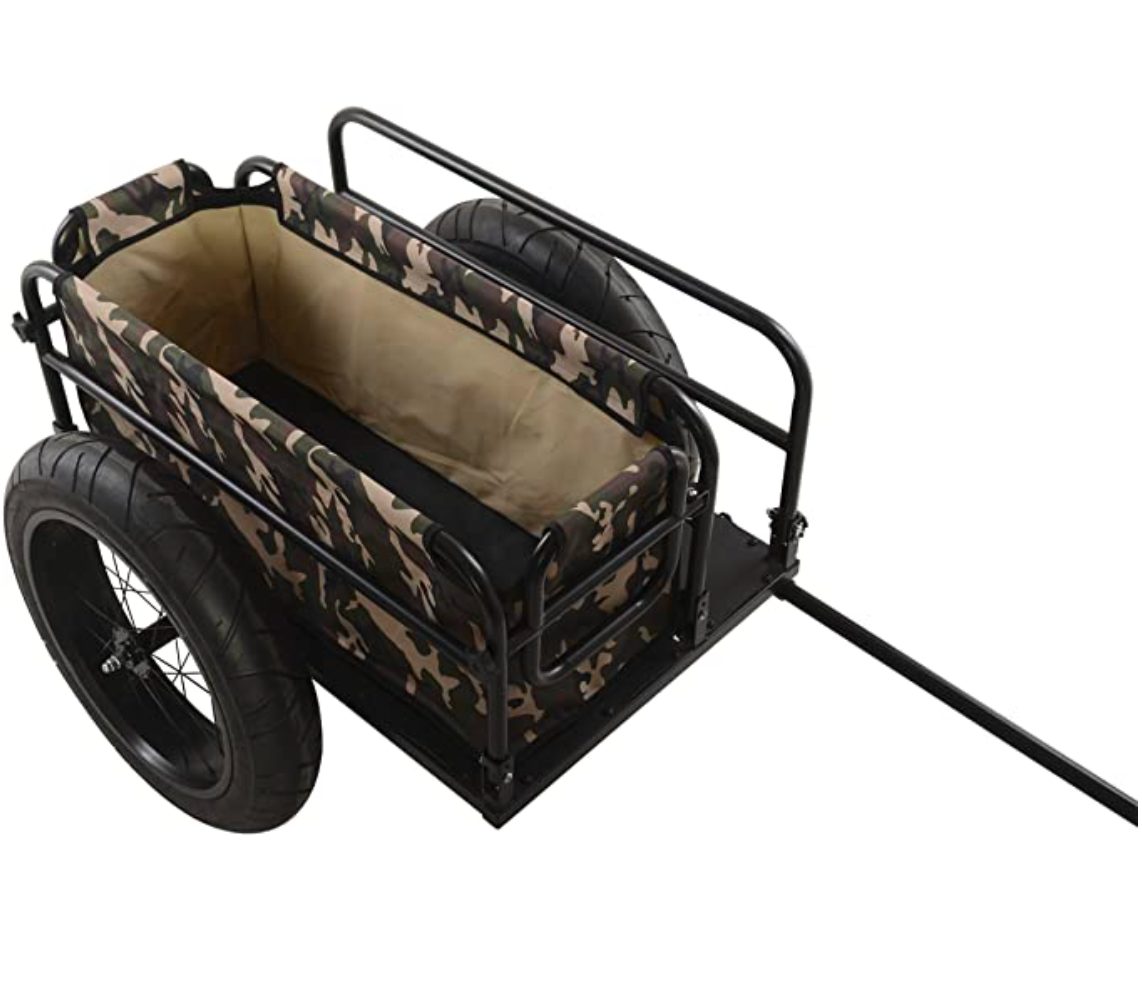 The Cycle Force Bicycle Camouflage Trailer is a cool cargo hunting trailer with enough storage space for off-road hunting.
It has high weight capacity and durable construction, making it suitable for carrying hunting carcasses or other heavy loads. It can handle up to 100 lbs of weight.
The deer trailer features large and sturdy wheels perfect for off-road terrain hunting.
It can traverse through rough and uneven surfaces that you commonly encountered while hunting. You can use it to carry hunting carcasses across the wilderness.
Moreover, the trailer's camouflaged design seamlessly blends into the surroundings and prevents unwanted attention.
You can also convert it into a hand truck, detach it from the ebike and move it around.
So, if you are looking for a sturdy and durable trailer with good weight capacity for hunting, the Cycle Force Bicycle Surfboard Camouflage Trailer is a solid choice. For hunters who visit flat or mountain terrains frequently, this trailer is a good option. 
PROS: 
The Cycle Force Bicycle Surfboard Trailer has a weight capacity of 100 pounds, making it a great option for transporting heavy loads, such as hunting carcasses or equipment.
The trailer is constructed with a sturdy steel frame and features a weather-resistant cover, ensuring that it can withstand rough terrain and inclement weather.
The trailer is easy to assemble and takes less than 30 minutes to put together.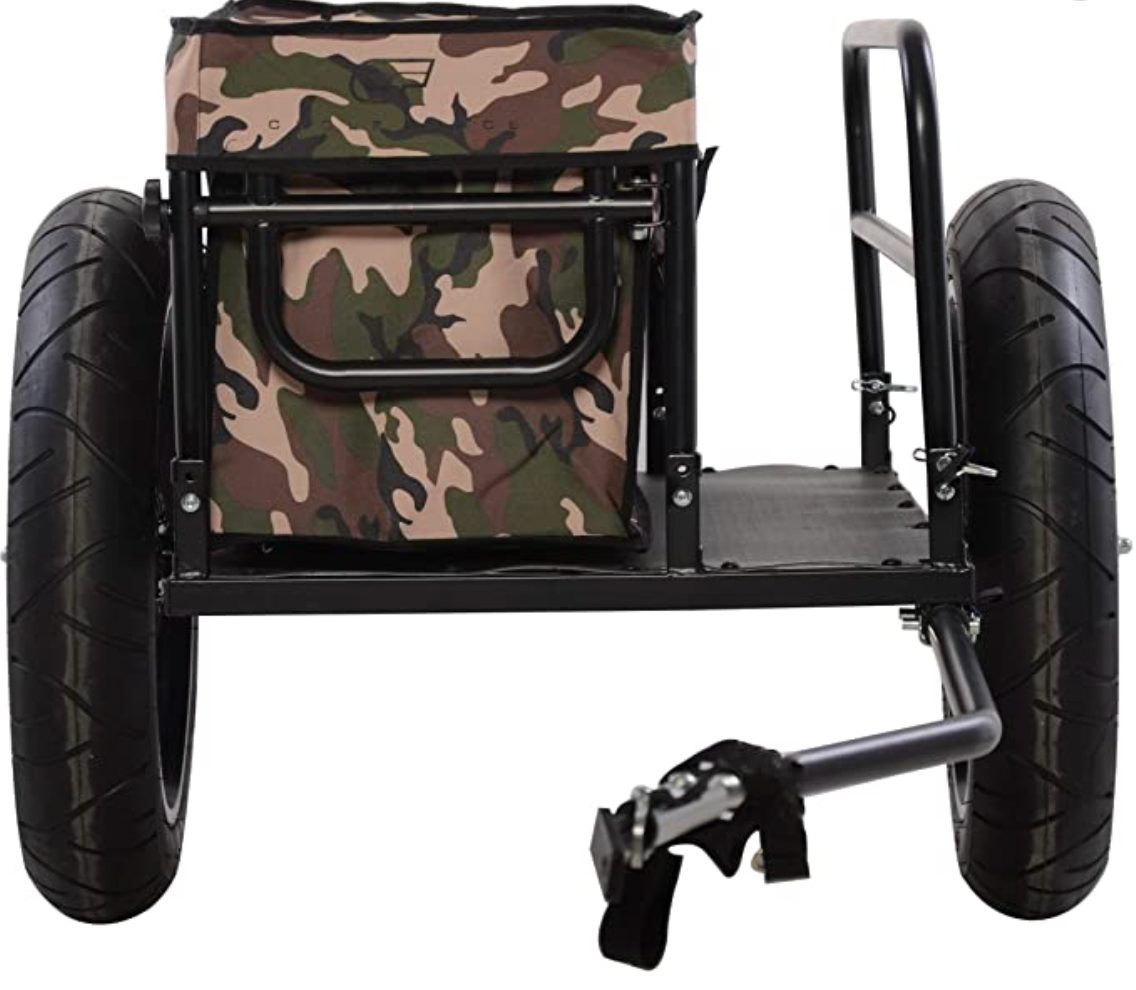 The Cycle Force Bicycle Surfboard Trailer is priced affordably, making it a great option for those on a budget.
CONS:
The trailer can be difficult to maneuver in tight spaces or on narrow trails, due to its size and weight.
The straps used to secure items to the trailer can wear down over time, potentially leading to items falling off.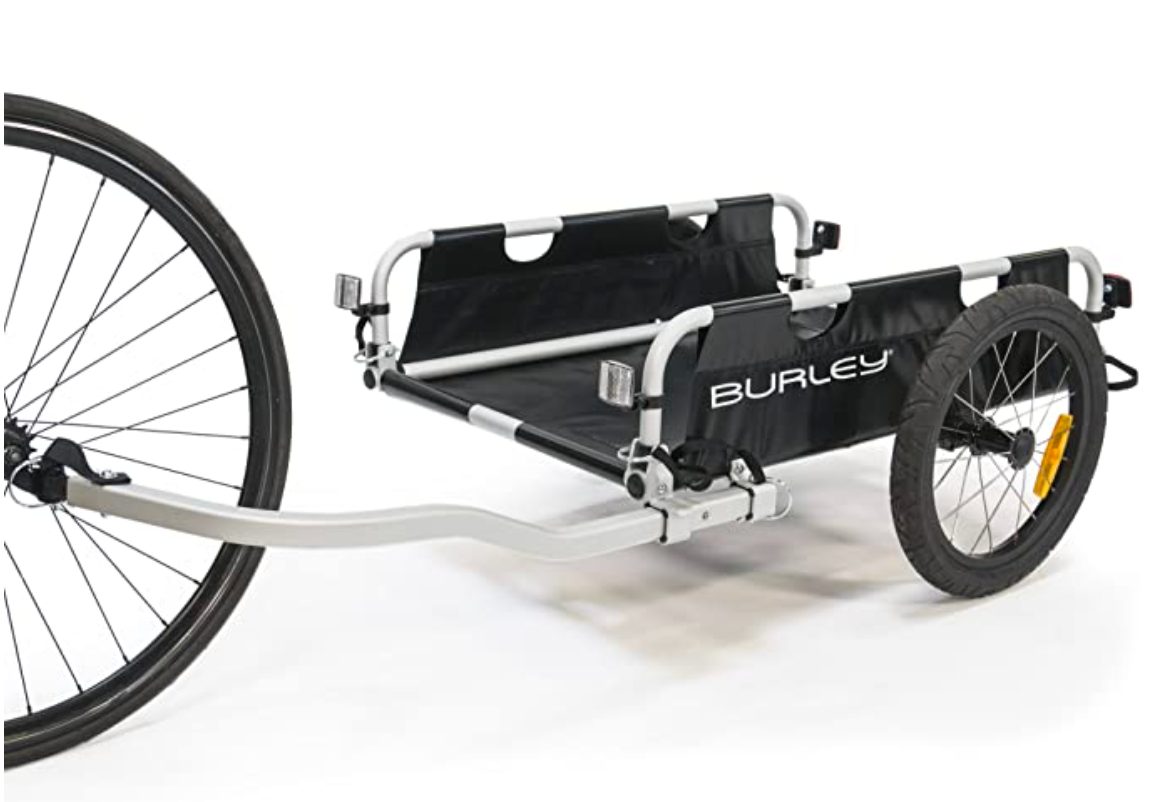 The Burley Design Flatbed trailer has a sturdy frame, two-wheel construction and good storage capacity, making it suitable for hunting. Although it is on the higher end budget-wise, it offers great value for the price tag. 
If you are looking for a no-nonsense cargo hunting trailer, the Burley Flat bed cargo hunting trailer is a good pick. The rear rack is made from sturdy aluminum. The lightweight frame reduces exertion when moving uphill.
PROS:
It has a weight capacity of 100 pounds, making it one of the top cargo trailer choices. It is suitable for carrying heavy hunting equipment, including guns, bows, and tree stands.
This electric bike trailer is made of sturdy materials, including a sturdy aluminum frame and a heavy-duty fabric base, making it durable enough to withstand rugged terrain and rough handling. The pull trailer has received praise for its durability and high hauling capacity.
The Burley cargo trailer features adjustable tie-downs to secure equipment and prevent it from moving around during transport. This is particularly useful when transporting fragile or expensive hunting equipment, such as scopes or binoculars on your electric bike.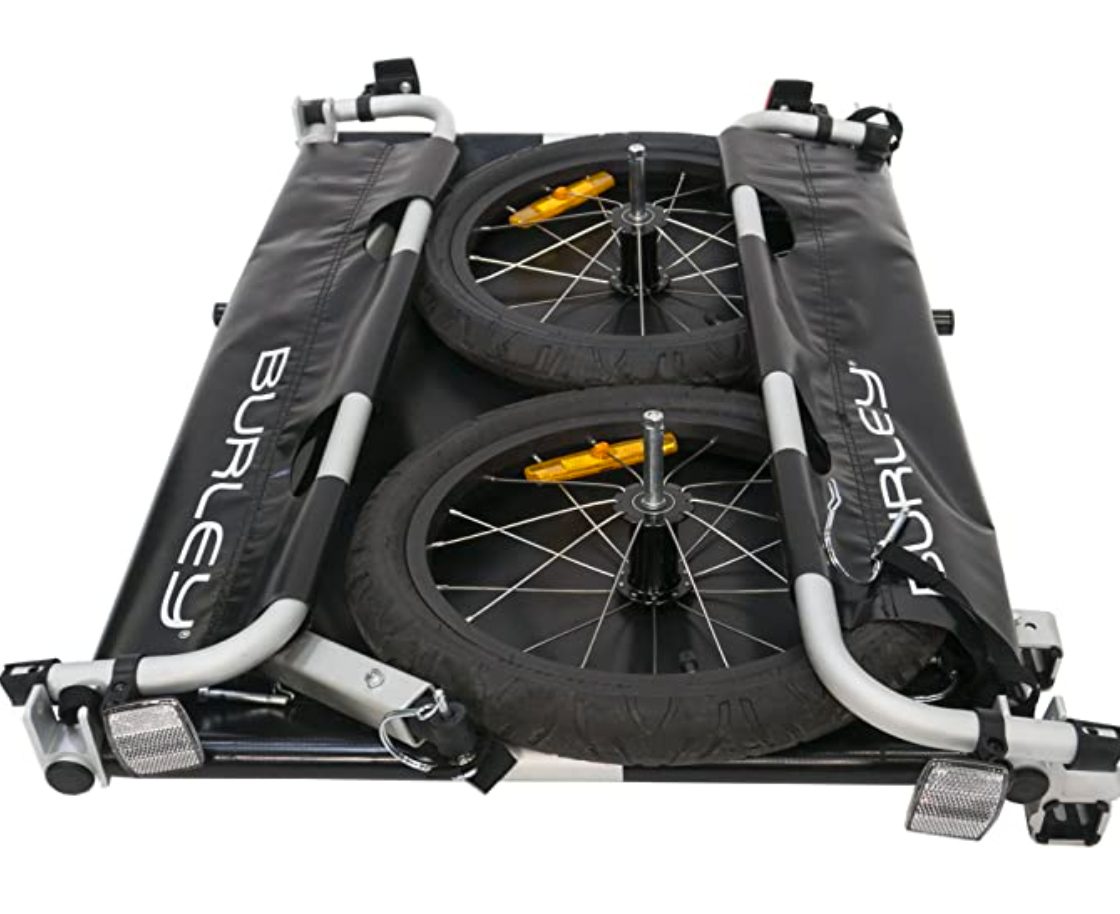 The trailer's design allows it to be easily attached to most bicycles, including e-bikes, and it can also be used as a hand cart when detached from the bike. This versatility is useful when transporting hunting gear to and from a hunting location, and when navigating through rougher terrain that may not be accessible by bike.
The Burley Design Flatbed Trailer has proven to be a reliable and useful option for hunters. You can use the trailer to transport a deer carcass or cargo weighing over 100 pounds on a 10-mile trip through rougher terrain. The rugged tires withstand off-road hunting challenges.
CONS:
The Burley Design Flatbed cargo trailer is relatively expensive compared to other hunting trailers, yet has the same useful features for a higher price. This could be a drawback for some hunters who are on a budget.
Unstable on rough terrain: 
The trailer is difficult to control on bumpy or uneven terrain, which is problematic when transporting a heavy load.
Final Thoughts
If you are looking to haul the heaviest loads, then the Cycle Force Voyager Bicycle Cargo Trailer is a solid choice, with its 132lbs capacity. For a lighter, more maneuverable option, you can use the Burley Travoy Cargo Bike Trailer to carry your hunting arsenal up to 60lbs. For a blend of both lightness and strength,  the Burley Flatbed Bike Trailer is the perfect option for carrying heavier weights up to 100lbs. Before choosing a hunting trailer, make sure that you consider all the details we've outlined above to make the best choice for your needs.  
Happy Hunting!
Current Pricing:
Related Articles: